Labour in the Informal Sector in Thailand
(Excerpt of the survey on "Sub-contracting Production and the Effect on the Employees and Labour Unions")
Background
Sub-contracting production has played increasingly important roles in Thailand's manufacturing industry, as it has been applied to a greater extent to reduce the cost of production. This system entails less welfare rendered to and lay-off of certain employees, as well as less bargaining power and less members of the labor unions. This is why the NGOs network on labor issues has initiated the study titled "Sub-contracting production and the effect on the employees and labor unions," with the objective to study the effect of sub-contracting production on employees and labor unions. Certain industries highly arrayed with this system are case studies in this survey. Initiated in 1997, this project has got much participation from the labor unions since its initial stage whereby labor leaders and representatives from more than 20 labor unions in 3 industrial areas were brainstormed. The brainstorm session reached several interesting conclusions.
Conclusions from the brainstorm session with labor unions
The various sub-contract production systems applied in different businesses differ in patterns yet share the same objective; that is, to reduce cost of production. Employees and labor unions know that their respective companies have applied this system, but they do not realize its significance nor, as its effect are not yet comprehended, have consultation on this issue. The labor unions' reaction to this issue thus is not concrete.
The industries in which this system is applied cover such extensive list of products as garment (as well as lace and bridal gown production), synthetic fiber, animal feed, motor cycles, artificial flowers, plastic, iron pipe and joint. Garment industry has applied this system for a longer period and to a greater extent. It is noticed that this system is applied primarily to reduce production cost, as employees' welfare and wage are reduced on the excuse of unbearable burden from economic downturn. Another hidden objective is to subdue the labor unions by reducing its bargaining power, as can be seen in the case of Par Garment Company in this report.
Patterns of sub-contracting system
This survey finds that:
1) Fully financed by employers and supervised by assigned foremen, small factories with about 10-30 employees are established to take care of some sections of the production line, as well as to evade some labour laws. Raw materials provided by their respective parents company, these small factories supplied the finished products to their parents companies in return. This pattern can be found in artificial flower and plastic industries.
2) Sub-contractor is responsible for some sections of the production line, and paid for by pieces of finished products. It is mostly found that sub-contracting agencies disseminate the semi-finished pieces supplied by the parents companies to other agencies. This pattern is found in garment industry.
3) Foremen are sent to train villagers in rural areas on certain production process, starting from small groups of villagers to bigger groups. When villagers can grasp the whole production process the company will send them semi-finished works to do all the time. This pattern can be found in garment industry (Nike and Adidas sportswear) and bridal gowns production.
4) A new company (a new legal entity) is established within the parents company. New employees are recruited to work side by side the existing employees, yet the former receive less wage and welfare than the latter, and are not allowed to be members, nor participate in the activities, of the labor unions. This pattern can be found in animal feed and pipe industry. This pattern effectively mitigates the bargaining power of the labor unions.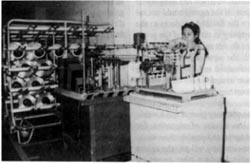 5) A subsidiary company sub-contracts certain sections of the production line, while the employees formerly work in this section are happily moved to other sections which provide better wage and welfare. This company actually employs more people; yet the newly-recruited employees are not employees of the parents company, and thus receive much less wage and welfare when compared with the existing employees. This pattern can be found in synthetic fiber industry.
6) Agencies recruit new employees to work side by side the company's present employees, yet the newly-recruited ones are employed by agencies rather than by the company itself. The newly-recruited ones thus receive only minimum wage but no welfare. This pattern can be found in motor cycle production (Suzuki), after the establishment of the labor unions. Labor union board members deem this as a way to mitigate the union's bargaining power.
These diverse and complex patterns of sub-contracting affect the labor and unions in the sense that, first, some unions dare not demand change in employment condition, for fear that employers may turn to sub-contracting system. Second, certain companies contract out certain production process, then lay-off old-aged employees who could not find new employment elsewhere, thus affecting their whole families. A hidden problem and cause of concern for unions is that foreign labors are employed in these small sub-contracting factories, especially during the times of labor disputes.
After the brainstorming session with labor unions, some industrial sectors are specified as cases to study in details this sub-contracting system.
Case study : Sub-contracting production in artificial flower industry
Flower International Company Limited (Tantawan) has factories located in Nakorn Prathom Province and headquarters in Bangkok. The company has manufactured artificial flowers for export since 1977. At present it employs about 200 employees, 90% of whom are female aged between 30-40 years. Most employees have worked with the company for more than 10 years, yet they are still paid daily with minimum wage rate. The bad working condition can be seen from safety problems and frequent accidents with factory machines, as female employees have to control big machine.
The production line is divided into 2 parts. The first part is the machine-made production of cloth and plastic flower components, such as petals, leaves, stems, and other flower components. The second part is the assembling of flower from these components, as well as the quality control and packing process. This second part is wholly sub-contracted, due to its labor-intensive nature.
The company's sub-contracting system The company has introduced numerous sub-contracting patterns since 1992, as follows:
1) A new small factory was established, which could produce the whole products by parents company's order. This new subsidiary company utilizes some of the parents company's machines, and a number of the latter's foremen are assigned to train employees in this subsidiary. At first products produced in this subsidiary had to be inspected and packed in the parents company, but now the new factory can quality control and pack the products by themselves.
2) Certain production sections, such as the process to make stems, petals, and leaves from plastic, are contracted out to the company's former foremen, who resign to run their own business with the company's support in terms of machines and equipment. These sub-contractors are responsible for recruitment of employees, and normally do not give due protection to their employees due to the illegal nature of their business.
3) Labor-intensive production sections, especially the assembling of flowers from their components, are sub-contracted out to agencies, who in turn disseminate necessary flower components to villagers in nearby provinces and prisoners. Some employees obtain these pieces to do at home after working hours.
It is found from the interview of 2 agencies that they are the company's former foremen. After their resignation, they have deposited an amount of money to the company. The company then forwards flower components to their houses (which are used as meeting point) and provides some training or sample finished product of artificial flowers. These agents, in turn, are responsible for recruiting workers or disseminating these flower components for villagers to assemble. Villagers then have to return to these agents the finished products on due dates. The finished products must meet required standard, or they will not be given any assignment again. If the agents could not return the finished products to the company in time, or if the products do not meet required standard, the agents' deposit will be confiscated and they will receive fewer assignments from the companies.
The company gives about 1 week, or less in case of urgencies, for the agents to complete their work. The company will pay the agents within 15 days after receiving back the finished products. These two agents reveal that they get about 40,000 bath to almost 100,000 bath for each consignment.
These agents employ villagers to assemble the flower parts and pay them by pieces of finished works. Wage differs according to the patterns, but is normally about 50% of the amount they receive from the company. The agents justify this on the ground that they have to be responsible for the quality of the works, and that they have to pay for quality inspection and packing. These agents normally pay villagers in cash once they have received the finished products, which satisfy the villagers. The problem, however, is that most villagers are old-aged women, housewives, or children who have free time after schools. These people normally do this work only for a certain period, due to small income and health problem, as this work requires workers to sit for a long period of time without changing posture.
The agents thus have to recruit and train new groups of villagers all the time, for fear of losing bargaining power with the company if they could not provide enough finished products in time. Some agents find a way out by having prisoners do the works. By this, they have stable number of employees at hand, who are already strictly supervised by warden. More importantly, they could significantly reduce the production cost, as, once they have the warden's concurrence, they do not have to pay the prisoners for their works.
Effects on employees and labour unions
When the sub-contracting system was introduced, the company clearly declared that the new system would make the company smaller, as it would function only as place to supply materials, receive finished products, inspect the quality, and pack the finished products for export. The company would not lay-off employees, as it had no remuneration. At the same time, however, the company forced employees to resign by themselves, by such means as working every two weeks on the excuse that there was no work left to do. Active union leaders were harassed or moved to a worse department, which effectively forced them to resign. Some were politely persuaded to resign. All these actions have made the company much smaller, its employees reduced from 1,200 in 1992 to only about 200 at present. Most of those resigned were old-aged female workers who faced much difficulty in finding new employment. Some have to do the same works for the sub-contractors, but with much less wage.
Case study : Sub-contract production in shoe industry
This case study is concerned with the fight for lay-off remuneration from Piyawat Rubber Industry Co. Ltd., which closed its business in 1995. Piyawat was a big export-oriented factory producing shoes under such brand names as Reebok, Adidas and Converse. The company reduced its employees from 2,300 to 800 in 1995, by forcing them to resign or moving them to other companies in the same conglomerate. Finally, the company was closed down. Most of those laid-off were rather old-aged female employees.
The communication with these laid-off employees reveals that some of them remain in shoe industry, yet in smaller factories or in sub-contracting townhouses. By this, they lost the rights, welfare and working condition they enjoyed in Piyawat. It can thus be seen that employees in this industry have been pushed to the periphery of legal protection.
Three small factories have been surveyed by interviewing their employees. Despite the differences in these three factories' financial status, they share 3 interesting features, as follows:
First, all of these three factories sub-contract from big export-oriented shoe factories.
Second, the employment and working conditions in these three small factories are very bad, compared to those in big factories, in terms of more than 12 working hours, less-than-minimum wage rate, and no welfare.
Third, female workers in sub-contracting system have no alternative and no chance to develop themselves. Two-thirds of these surveyed cases are found to be factories in small townhouses, with about 40-50 employees. Employees in these factories sew sneakers, the cut parts of which are supplied by the big export-oriented factories. Most employees are old-aged female who have to work 10-12 hours a day, 6 days a week, for either less than minimum wage rate or payment by finished pieces. No welfare, social security or safety equipment are provided.
Another case, a 200-manned company limited owned by a Taiwanese sub-contracts shoe production. Most employees are female, who have been working with this factory for more than 6 years, and normally work for 8-12 hours a day. The employer deliberately sets a daily target of finished products. If the employees can produce as much as, or more than, that target, they will be rewarded. In case of urgency, employees may be obliged to work to midnight and during the weekends.
This factory has bad working environment. Formerly a rented warehouse, this factory has no partition and very few ventilation fans, resulting in much dust and smell. No safety equipment, first-aid room, and health check-up are provided. When the employees are about to demand for better working environment, the company obstructs the campaign by intimidation.
It is noticeable that this company sub-contracts works from big factory, and concurrently acts as agent in disseminating works to numerous other smaller factories. Once in 1996, the employers subsided the employees' demand for less working hours by bringing in employees from other sub-contracted factories. This event confirms how sub-contracting production system results in less bargaining power of employees and less possibility for the improvement of working environment.
Conclusion
It can be concluded that sub-contracting production system yields positive results only to employers, in terms of higher productivity, lower production cost, and less responsiveness to employees' demand. The main adversely-affected groups are employees in this sub-contracting system, employees and labor unions in factories, and the villagers or communities whereby this system of production is introduced.
More specifically, employees in sub-contracting system are mostly old-aged female, who would have difficulty to find employment elsewhere. Less welfare provided, these workers have to work for many hours a day, resulting in deteriorating health, less self-improvement, and unstable employment and income.
This survey shows that after sub-contracting production system has been introduced, some employees would be implicitly forced to resign or outright laid off. With fewer members and sometimes without leaders, the unions are effectively weakened and unable to protect the employees' rightful rights.
The community is also negatively affected. In the case of the village whereby artificial flower production is sub-contracted, at first there was only one agent and all villagers were sub-contracted producers. The obviously profitable business of this agent naturally entailed another agent. The village thus had two agents. Their cut-throat competition caused deep social division in the village, resulting in less unity and strife in the long run, while the employer stands to reap the benefit from higher productivity.
Finally, a point of concern is that, as Thailand is entering recession period, more employees will be laid off and some would be forced into this sub-contracting production system. At the same time, the economic situation will encourage more employers to resort to this system. The more lay-off, the more sub-contracting production. The labour unions have already been bombarded with many challenges, one of which is how to find the means and measure to cope with the growth of sub-contracting production system.
(The survey was done by Friends of the Women Foundation, written by Nukul Kokhit.)
---
Asian Women Workers Newsletter