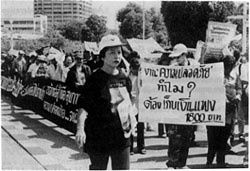 Part-Time Work: Solution or Trap?
Patrick Bolle

Over the past 20 years there has been a trend increase in part-time relative to full- time employment, especially in many developed countries. In some cases this is the result of a political decision to promote part-time work, particularly in countries suffering from high unemployment. Indeed there has been much praise of its supposed merits as a means of reducing unemployment as well as of its benefits for workers and employers alike.

For workers it may offer the chance of a better balance between working life and family responsibilities, training, leisure or civic activities. It can also make it easier for workers progressively to enter the labour market or retire from employment. For employers it can permit not only greater flexibility in responding to market requirements-- e.g. by increasing capacity utilization or extending opening hours-- but also productivity gains. For policy-makers confronting high unemployment, the growth of part-time work may reduce the number of jobseekers or, atleast, the number of people registered as such. In other words, it can lower politically-sensitive unemployment rates without requiring an increase in the total number of hours worked.

Of course, part-time work also has its drawback. Part-time workers are very often at a disadvantage in comparison with colleagues who do equivalent work full time. Typically, their hourly wages are lower; they are ineligible for certain social benefits; and their career prospects are more limited. Besides, unless working part-time is voluntary, it may leave them only marginally better off than if they were unemployed. For employers, in addition to organisational difficulties, there are some fixed cost per worker--e.g. recruitment, training or social security contribution subject to wage ceilings- which may increase overall labour costs if the proportion of work done by part-timers is increased. Involuntary part-time work (by people who would prefer to be working full-time ) amounts to underemployment in macroeconomics and macrosocial terms. Beyond a certain threshold, it can weaken demand, with possible negative effects on growth and therefore on employment.

Many governments have adopted measures to facilitate part-time employment, even encouraging employers to hire part-timers in countries were unemployment is high. Such measures may target discrimination faced by part-time workers and reduce the fixed cost associated with part-time employment, in some cases even to the point of making it more attractive to the employers than full-time work. But where these policies fall down is in generalising from measures that help individual workers and employers to a national employment policy to increase the number of part-time jobs as a solution to unemployment; in a sense, this just amounts to a redistribution of work.

At the international level, two developments reflect the greater attention paid recently to the increase in part-time employment and the difficulties associated with it. The first was the adoption by the International Labour Conference in 1994 of the Part-Time Work Convention (No.175 ) and Recommendation (No. 182 ). The second was the signing in 1997 of a framework agreement on the matter between the social partners of the European Union (EU ), namely, the European Trade Union Confederations(ETUC), the Union of Industrial and Employers' Confederation of Europe (UNICE) and the European Center of Enterprises with Public Participation (CEEP).This agreement was upgraded into a directive following its adoption by the EU Council of Ministers, in line with the provision of the social protocol annexed to the Maastrichi Treaty.
Definition:
Convention No. 175 offers the following definition: "the term 'part-time worker' means an employed person whose normal hours are less than those of comparable full-time workers". The reason that the concept of a "comparable" workers is mentioned is that "[t]he number of hours per week or per month that are regarded as being normal for full-time employees vary considerably according to the profession or activity concerned" (ILO, 1992, p.5 ).For example, the number of hours spent by a teacher in the classroom, disregarding hours spent in preparation, fall well short of the number of hours considered normal for a manufacturing worker. As for hours of work, Convention No.175 states that these may be calculated weekly or on average over a given period of employment.
Part-time work and underemployment
There is a fundamental distinction to be made between voluntary and involuntary part-time employment: whether people deliberately choose to work part time or accept reduced hours of work simply because they cannot find full-time employment. In the latter case, part-time becomes a form of under employment.
Legal protection of part-time workers against discrimination
Part-time workers are on an average paid lower hourly rates than full-time workers. Such differentiation can sometimes be observed for equivalent work performed within the same establishment, but this is not generally the case. In fact, the differential becomes more apparent when one considers groups of workers. This is due to a number of factors: part-time workers "tend to work in sectors, and indeed in branches of sectors where the hourly rates of pay are low in comparison to the national average. They also tend to be employed in low-graded jobs and to be excluded from supervisory posts" (ILO,1992,p.34).Part-timers are more likely to be excluded from supplementary payments such as bonuses, holiday and sickness pay, training allowance, seniority payments, etc. A very important related question is that of the minimum number of hours of work required to qualify for certain entitlements, as in the case of redundancy pay or other benefits.

The disparity in remuneration can also be attributed to the growing proportion of women and 15-25 year olds in part-time employment, the former as a result of discriminatory practices, and the latter because of their recent arrival on the labour market. In the case of women, this can also be seen as a two way process of cause and effect: they are paid less on average because greater numbers of them are part-time work..

Part-time workers are also at a disadvantage on account of their hours of work. This may well be obvious, but premium payments for overtime are often not made until a part-time employee has worked the equivalent of the normal full-time work. Overtime can thus be used as a means of achieving flexibility by maintaining part-time workers on relatively short basic hours and requesting them to work substantial overtime during peak periods. Under some laws or collective agreements, overtime rates apply once the normal part-time working hours are exceeded, though this provision generally specify a maximum number of overtime hours so as to avoid too great a distortion between part-time and full-time costs.

Certain part-time work "on call ", without any guaranteed minimum weekly or monthly number of hours (the "Zero hours" system ) and are thus in a particularly vulnerable situation. Apart from the fact that they cannot rely on a minimum income, they are often excluded from certain rights and benefits, training (including training in occupational health and safety ), and participation in trade union activity or staff representation. These disadvantage are compounded by a type of discrimination, referred to as invisible (as it is scarcely quantifiable), which affect their advancement and promotion prospects. Here again, there is a striking similarity to the situation of working women generally, and this is no coincidence.

Furthermore, deterioration in the employment of part-time workers can lead, through a "leveling-down" process, to a deterioration of their full-time fellow workers. Convention No.175 therefore establishes minimum standards for part-time employment , based on the two principles of proportionality and non- discrimination.
Conclusion
If it is freely chosen and protected by law, part-time employment no doubt offers workers a good way of striking a balance between the time they must spend earning a living and the time they wish to devote to other activities. It also gives employers greater flexibility in adjusting working hours to business requirements while achieving higher productivity. In this respect, the option of part-time employment seems well worth encouraging. Another reason for doing so is that workers- especially women- should not be forced to choose between full-time work and unemployment as the only alternative on offer. However, those wishing to work full time should not be left facing a choice between unemployment and underemployment either. Policies designed to promote part-time work by lowering its cost below that of full-time employment are likely to have the perverse effect of increasing the proportion of involuntary part-time workers, i.e. underemployment, with adverse consequence both social-especially for women and other workers already at a disadvantage on the labour market- and economic, depressing demand, growth and employment.

[Ed. note: Patrick Bolle is the French- language editor of the International Labour Review.The following are experts from his article published in the International Labour Review,Vol.136 (1997), No.4 (Winter)]