Asian Women Workers Newsletter (AWWN) is published quarterly by Committee for Asian Women (CAW). It reports the issues, news, struggles and life experiences on Asian women workers.
If you work with women workers, and you want to share your struggles and experiences in your country, we are glad to receive your contributions and publish it in the newsletter. We are also interested in exchanging publications with labour groups, women organisations and trade unions.
Biannual Subscription:
| | |
| --- | --- |
| Hong Kong & Macau | HK$100 |
| Asia countries | US$20 |
| Outside Asia | US$35 |
Please send your subscription and a bank cheque payable to "CAW LIMITED" to the secretariat
Secretariat address:
Unit E, 4/F, Skyline Tower, 18 Tong Mi Road, Mongkok, Kowloon, Hong Kong.
Telephone: (852) 2722 6150
Fax: (852) 2369 9895
Email: cawhk@hk.super.net
Website:
http://www.freeway.org.hk/~cawhk/
http://members.tripod.com/~cawhk/
CAW is a regional women workers organisation with the following objectives:
1. Assists in consciousness raising among women workers in formal and informal sectors in Asia towards the realisation of the commonalities of their situations, problems and analysis;
2. Supports the organising efforts of the organised women workers to effect favourable changes in their lives;
3. Facilitates networking and linkages amongst women workers and related groups within Asia and outside for solidarity and support.
---
Previous issues
October 1997
January 1998
To subscribe the full version of this newsletter, please give an e-mail to cawhk@hk.super.net.
Last updated: 21 June 1998.
Women Cleaners in Hong Kong
To finish fast, Bo Lin uses a very dangerous method to sqeeze the most in one garbage bin (bottom left). That night, Ah Foon, organiser at Hong Kong Women Workers Association, held the cart (bottom right), but on her own, Bo Lin bets on her luck every night. She once sprained her ankle, costing her HK$2,000 (US$250) in treatment, out of her pocket.
(Full story on pages 8-11)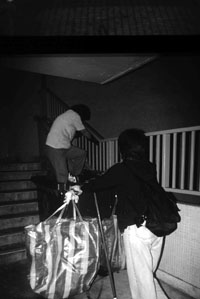 ---
Updated by: Kevin Li (HKPWD)