Pakistan
In Karachi, Women Workers' Centre chose to hold their IWD celebration in Orangi Town which was surrounded by five of the Centres for Working Children run by WWC. Keeping in view that women all around the world celebrate the day to refresh their commitment to the cause of uprooting the subordination of women in general and working women in particular, WWC decided to share this day with working women from different workers' residential areas of the city.
In these areas, all household members including women, men and children are working. The working class is made up of different ethnic and national groups including Punjabi, Pustoon, speakers of different dialects of Urdu, Balochi, Sindhi Bangalis and Burmese. The activities however was also joined by members of other centres.
Activities included a seminar on what IWD meant to women in these areas and how they thought it should be celebrated. Women from a wide range of occupations like
"Here we are. We will not step aside," Rubina of WWO, Pakistan, said.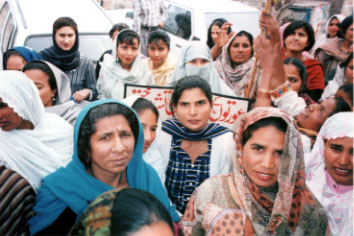 Working women in March 8 Rally organised by WWO, Pakistan
housewives, teachers, home-based workers, factory workers, nurses, beauticians and students expressed their views about the day. There were also a variety show projecting the ethnic diversity of the areas, a quiz programme and stalls which were set up women in the communities. Almost 600 women and children took part in various activities of the celebration.

This was not the end of IWD. It actually set the stage for follow-up programs for women workers in the communities as organisers and participants on that day realised that something long term should be formulated. A committee has been set up to plan for possible income-generating programmes.
---
In other industrial cities including Lahore, Faislabad, Sialkot, etc, Working Women Organisation called for an end to all sorts of discrimination against women. A large seminar was organised in Lahore and was warmly attended by a great number of women from factories, office, informal and service sector, brick kilns and slum areas. They were joined in by a large number of children and male workers from different unions and organisations.
Speaking at the seminar, WWO president Rubina Jamil said that the purpose of observing International Women Day in Pakistan is to fight against all kinds of discrimination and injustice. Every human being, woman or man, should have the right to choose how to live their life, and have the same opportunities as well as rights. But this is far from the reality, and women are most hard hit by discrimination in society.
Around the country women are denied their rights, beaten, abused or even murdered. Why? Because we are women and our very basic rights as human beings are flouted. As women and as workers, we are suffering in extremely critical situation and were relegated to second class status at home and workplace. In view of this injustice, Rubina declared WWO's conviction of regular struggle and said with great determination, "Here we are! We would not step aside".

Exploitative practices at workplace were also discussed in the seminar. Special concern over health facilities for women were raised.